Sidereal Wall Clock

"Hey mate your clock is wrong"
"No, it runs to sidereal time"

"What's that ? "

Great retirement gift idea for the person who already has everything astronomy.
---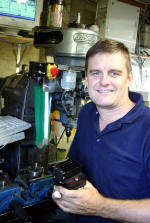 ECONOMIC SLOW DOWN
Get your Adapters Now! While they are still in Stock
Special 50% off IR Filters
Due to a drop off in demand for Adapters during 2011, I have had to pursue other avenues of supporting my family
I still have stock on the shelf but will not be making many parts to order from now on. Unfortunately I have had to apply the machinery to other more productive work. Some items will still be made to order and will indicate this on the product pages. Many of these items are not available else ware so if what you want is in stock buy it now before somebody else does
Other products that I develop are Acceleration Data Loggers - Check them out at http://VastMotion.com.au
The old pages are still available for reading
Visit the QCUIAG home page to learn more about what is possible with a webcam.
---
Copyright Steven Mogg 2001-2011
Home: http://moggadapters.com Email: steven@moggadapters.com