M01
Matt Taylor, Palmdale California
Imaging Scope: Meade 12" LX200GPS/SMT/UHTC @ F/3.52 1074mm
Guiding Scope: Orion 80ED @ F/7.5 600mm
Imaging Camera: Meade DSI & DSI Pro - Guiding Camera: SBIG ST2000XM
DSI Exposures: 10 x 8 Minutes Each AutoDark Subtracted
DSI Pro Exposures: 5 x 8 Minutes Each W/ CS H-Alpha Filter
Calibration Exposures: 5 Autodarks, 10 Flats, 10 Darks for Flats
Processing: Photoshop CS for Levels & Curves, Neatimage at 20%
View Matt Taylors Gallery at:
http://www.pbase.com/mataylor/image
M2, Globular Cluster in Aquarius
Tom King
First light for the Outback Cooler with the DSI Color imager. Images and darks captured at 68°F/20°C, regulated by the Outback Cooler. Ambient temperature was 93°F/34°C.
Noise in the individual exposures was almost negligible and none of the usual internally generated gradients seen in unprocessed DSI images were present. For the first time this summer, noise in the blue color channel was virtually non-existant, and did not have to be dealt with.
Globular clusters have always been difficult objects for me to render in presentable form. I have never really been able to determine why this is so. As a result, most all my attempts to image clusters have ended up in the binary trash can! Although not perfect, this M2 captured with the DSI Color running the Outback Cooler is in a class of it's own compared to earlier attempts. Click Below is my best previous attempt at M2 with the DSI Color.
http://wataugaskies.com/latest/latest.php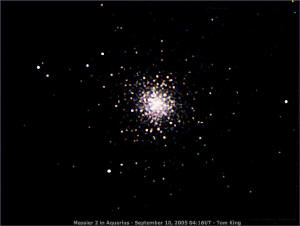 Equipment: Meade LX90 203mm SCT @f/3.0 in Alt/Az, Meade Deep Sky Imager with Outback Cooler regulated at 68°F/34°C Settings: 16 x 21.2s, gain=100, offset=50, saved as Fits Raw
Processing: De-rotation and rgb color set in AS-IP. Debayered and Color split in Fitz (thanks Hillary!). Final processing of curves, color balancing and unsharp masking in Photoshop CS. Imported to Photoshop CS with Fits Liberator
I shot 2 really quick test photos last night at 10C, these were quick, down & dirty, very very little processing has been done and if I were shooting these for real I would have taken
a
LOT more exposures, so these are just to show off the cooling under way less than good conditions. I had wind, and an almost full moon to deal with so naturally I chose a really hard target like NGC6992
.
NGC6992
2 panel mosaic
3 exposures each at 4 minutes
by Matt Taylor 27 May 2005
Click image for full size